In 2005, the Audi Q7 was the first luxury SUV introduced by Audi. It is sleek, elegant and modern in appearance. It is luxurious enough to drive for a night out on the town, but practical and powerful enough to tow your motorcycles out to the park.
Some might think that the front grille is somewhat intimidating or overdone in terms of design, but others might say that it adds a special element that makes it distinctive. The Q7 combines luxury with practicality. Think of it as a high end SUV that can handle many different types of road conditions.
Performance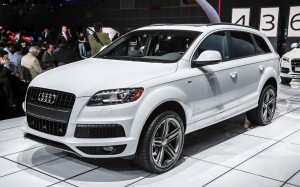 The 2014 Audi Q7 has an automatic eight speed transmission, and it has a clean burning engine that is available with three different power-trains. It is available with a 3 litre V-6, an S Line 3 litre V-6 or a TDI 3 litre turbocharged diesel engine. The diesel engine has more power and has better fuel efficiency. It gets 19 mpg in the city and 28 mpg on the highway. But, no matter which engine is selected, the 2014 Audi is a big SUV that has very good fuel efficiency overall.
The Interior and Exterior
Since the 2014 Audi Q7 it has three rows, most people would assume that it is cramped and uncomfortable. This is because most 3 row vehicles usually lack space in order to accommodate the 3rd row. But, all three rows have plenty of leg and head room to seat adults in the first two rows and children in the third row.
However, the Q7 may not be wide enough to fit three people for extended rides. But, keep in mind that there is the option to slide the second seat back even more if you don't need the use of the third row seating. Once folded, it just adds to the rear cargo space.
The 2014 Q7 has a roomy interior design that has had very few changes since it was first launched in 2005. Changes such as a redesigned bumper, grille and tail lights help to update its already sleek design.
In addition to these changes, the Audi has other features that give it a wonderful choice such as daytime running lights, cruise control, power windows, power locks, a mobile WiFi hot spot, tilt steering, key-less entry, satellite radio, Bluetooth technology, heated seats, a heated steering wheel, four zone climate controls and a panoramic sunroof.
All of the above-mentioned features, in addition to elegant styling and quality finishes, make this Audi well worth the cost.
Handling
Even though this 2014 Audi SUV is larger in size, drivers say that it does not drive like a big clunky vehicle. It has a smooth ride that is expected when driving top of the line cars, much more like smaller SUV models. This can be attributed to its Quattro all wheel drive, air ride and unique suspension features. All in all, this SUV has features that allow you to drive in comfort in both on-road and off- road conditions.
Safety
The 2014 Q7 by Audi has an impressive list of safety features such as rear, dual, front and side airbags. It also has traction control, a rear-view camera, a blind spot warning system and anti lock brakes. This is the first year that the Q7 has LED running lamps and xenon headlamps. A lot of these things are the latest that technology has to offer in safety features. These are all features that make this Audi SUV a well made value.
Return to our 7 seater cars overview here.