Finding a good car can be tough, but finding good people movers? Now that can be downright insane. 8 seater cars are no easier.
People movers (as the name suggests) are vehicles that are specifically designed to move large numbers of people.
For example, the family minivan can be considered a people mover, as they are designed with mass transportation in mind!
This is the type of car that would suit a large family with lots of kids and maybe a dog or two.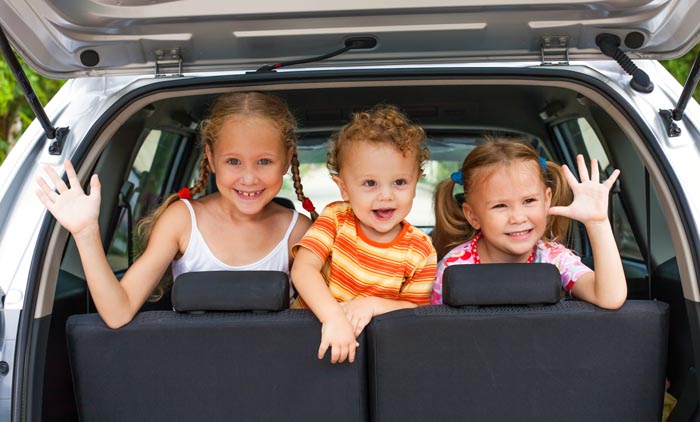 Vehicle manufacturers have heavily targeted these rear occupants, when they set out to design a people mover.
The comfort of the rear occupant is key to getting the minivan in the hand of the family. The kids want cool looking and comfortable seating, easy access around the van, and of course, in car entertainment, such as DVD players and game consoles.
When looking for that minivan or people mover for your family, make sure you bring the kids as they will usually be the deciding factor in which van you choose.
8 Seater People Mover
The 8 seater range was once found only as utility level multi-purpose vans, today's 8 seater cars are both functional and beautiful. When it comes to the top vehicles with eight seat capacity, there are four that stand out from the crowd.
While there are many larger vans out there, finding the minivan level people mover is going to leave you with these top choices.
Best People Movers & 8 Seater Cars
List the Best People Movers & 8 Seater Cars in Australia
Let's take a look at some of the top people movers and 8 seater cars available today.
Kia Carnival 2023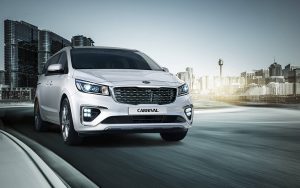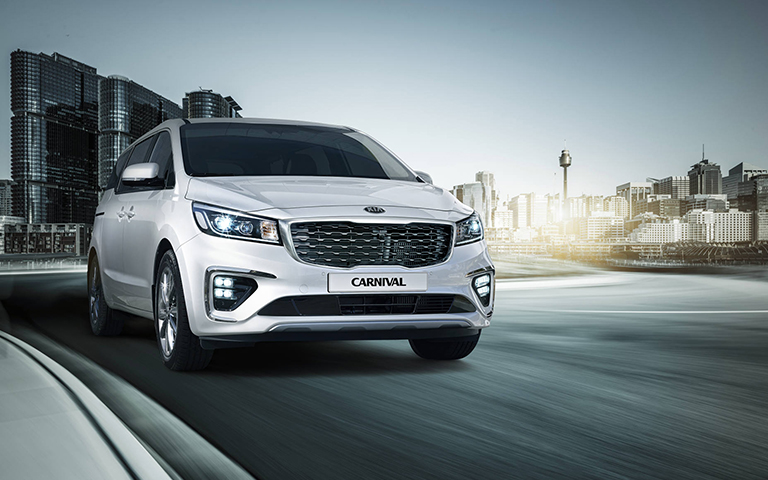 The latest version of the Kia is leaps and bounds ahead of previous models. Kia has came back with a people mover that was bigger, better and far more impressive than the initial design.
The V6 engine is zippy but fuel efficient and the roomy interior offers a styles means to move a crowd on a budget. It is safety conscious and offers you a great way to get where you're going in a cost effective way.
Read our Kia Grand Carnival Review
The Mercedes-Benz V-Class 2023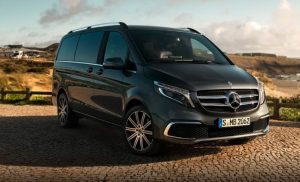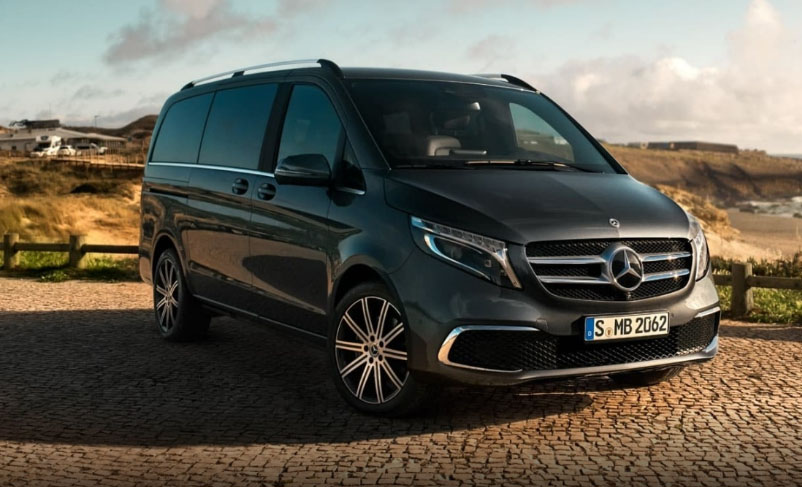 When you want a high powered, efficient engine, this one is right there leading the pack.
For assurance, just look at the following specs:
V6 3.0-litre turbo-diesel
165kW/440Nm
8.6ltr/100km
exhaust CO2 scores at 226g/km
Plus the suspension works flawlessly with both a light and heavy load, there's never a sluggish response.
True power and green awareness in one excellent package here. That is just one factor in why this car is number one. The other is luxury in both interior and exterior details and superior grade technology at your fingertips.
You get high-quality trim, air vents finished with silver detailing, e-class level dash controls, and a command aps system standard that gives you a 6.5 inch full colour display and HDD navigation tools that are voice activated.
For luxury chauffeured services, this is typically the only choice offered, because it's that good.
Read our Mercedes-Benz V-Class Review
Toyota Land Cruiser 200 Series 2023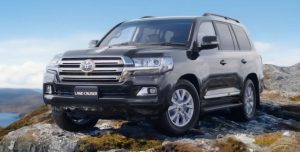 Completely specialised, the Toyota Land Cruiser quite literally has it all.
The Land Cruiser offers you ample seating and all you need. Be it off-roading or towing a caravan while touring around Australia with the family. You get a comfortable ride in the city or on the open road.
Boasting outstanding ride quality and sport oriented, road hugging power, the Toyota LandCruiser 200 series has the added advantage of being quite remarkable in so far as cost effective, energy efficient operations.
Seating for up to eight can still be an affordable ride with the twin turbo V8 diesel claiming 10.3L per 100km.
Read our Toyota Land Cruiser 200 series Review
Honda Odyssey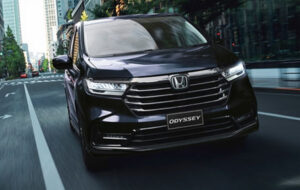 Recently Honda unveiled it's latest edition to the people mover category – the Odyssey – and once again welcomes it to the Honda family.
The new Honda Odyssey will try to challenge the market position of Kia Carnival. We will watch this with interest!
However, unlike the Carnival, this vehicle is only capable of being an seven seater.
The exterior design will be remodelled to give a van-like appearance to the car. Odyssey's interior has also seen major improvements. There will be a single-tier media system and seats with a reclining function.
Honda is yet to provide information about the Odyssey engine configuration. And the other hi-tech solutions that will soon be available.
Read our Honda Odyssey review article
Volkswagen Caravelle Shuttle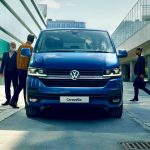 More rugged than the Mercedes-Benz, the Caravelle offers great handling with a sporty flair. It works to haul lots of stuff as well as suiting passengers with comfort.
It is not as fuel efficient as other cars but fair for its class, and there is a range of power options for the engine.
Where it really shines is the remarkable safety features. If you want to make sure you family is protected, this is the one for you.
It has multiple air-bags and a range of technology features that make it among the safest car on the road.
Toyota Grandvia 2023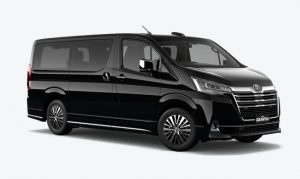 Recent updates to both the look and the handling of the Toyota Grandvia (6-8 seater options) give you great new road hugging power, a superb new transmission and improved fuel economy.
In addition, you've got the capacity to transport a large group of people in style and in comfort.
While the four cylinder diesel engine seems to be a slight let-down when you compare the power to weight ratio. It seems to have impressed fans and critics alike with the get up and go the vehicle have to offer.
With outstanding fuel usage and an impressive dash from 0 to 100, the Toyota Granvia does not disappoint.
Lexus LX Series SUV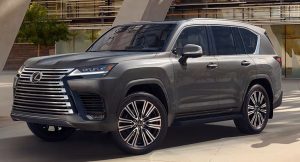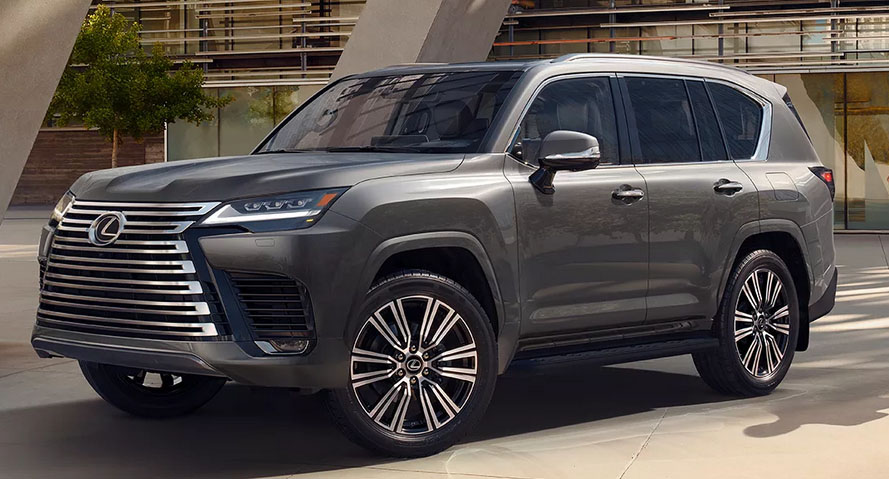 Great fuel economy, 4 wheel ABS and excellent traction control are just part of what makes the 2023 Lexus LX Series a superior family option to choose.
Features like daytime running lights, advanced air bag features and energy management that helps to save fuel are other reasons to take a second look.
Find the Lexus range available LX500D, LX570, LX600.
Overall safety ratings are excellent and the economy and comfort of the Lexus LX series were just a few of the reasons why customers opted for this outstanding vehicle.
Ford Explorer
It may come as a bit of a shock that the Ford Explorer, what is considered by many to be a humble automobile ranks in the top 20 affordable 8 seater SUVs on the market today.
The majority of reviewers were in love with the roomy and attractive inside while the fuel economy and the great handling also helped it to hit the high marks for those who owned one. A standard V6 engine offers a reasonable amount of power to the driver while enhanced safety features bring it home for the Ford Explorer.
Hyundai IMax 4D
The Hyundi IMax is one of the more affordable models on the list. You do a bit of bang for your buck. You get a spacious 8 seater van with most of necessities you are likely yo use. Plus the legendary safety features of a Hyundai is compelling enough. Just another reason to at to the pros column.
With a rear wheel drive train and 5 speed automatic transmission, it also has a responsive engine with 441Nm of torque @2000 rpm. Meaning, you can weave in and out of traffic with not to much fuss.
Mercedes-Benz R Class
For a people mover, the R Class is incredibly sporty and dedicated to making your journey as smooth as possible. It provides you with plenty of different possibilities while ensuring that seven people can travel in absolute comfort.
This of course is due in part to the rear suspension, along with the highly ergonomic seats. If you want a large group of people to travel in comfort, then you couldn't go wrong by choosing Mercedes-Benz. The R-Class has been around for nearly a decade, and looks to be set for the next.
Nissan NV Series
If you are looking to transport crowds of people simultaneously, then may we suggest the Nissan NV series? This is a 12 passenger vehicle with water repellent cloth seats, eight cup holders, eight standard air bags for increased safety, and the optional 5.6 Litre V8 engine for maximum speed.
This vehicle is a bit on the expensive side at more than $33,000, but it is well rounded and capable of carrying anyone anywhere.
Chrysler Town and Country
Fairly well powered and moderately efficient in fuel consumption, it is angled at going toe to toe with the VW on safety, with the added plus of luxury.
It falls in the middle between the top 2 on features but doing both things moderately well, lands it in 3rd. You will enjoy how it handles however, and be pleased with how the seats fold to give additional cargo room as needed.
These are a few of the most popular large family vehicles from the most popular brands out there.
Final Thoughts on Best 8 Seater People Mover or Minivan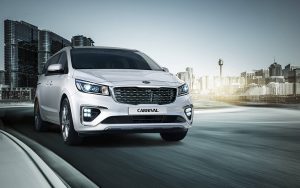 When you are looking for your own large car, you will need to ensure that they meet all of your specific requirements.
For example, they need to be able to withstand the rough abuse and the flurry of your passengers.
If you're transporting children, waterproof seating would always be a plus! The same would go for a sports team as their equipment can begin to smell a bit rank after a while.
Make sure the vehicle is easy to clean, and that it is comfortable for you to drive as you may be in it a lot. You never know just what might happen in the business of people movers and 8 seater cars.