Ford Territory… And Why We're Not Impressed
The Ford Territory was first launched in Australia in 2004 and it has been a major player in the SUV segment since then.
It is one of the most popular family cars in Australia – although the sales figures have gone into free fall in the past couple of years.
Ford has responded to this by slashing prices and giving the SUV more bells and whistles.
Will ford be able to defend its Territory?
Read on to find out in this exclusive review.
The Exterior Styling
Earlier, manufacturers could get away with building poorly styled family cars. The highest priority was given to function – not form.
As long as the car could haul lots of people in relative comfort, it did just fine.
However, things have changed radically in the 21st century. Even the family car buyer is style conscious.
Kids want their parents to have 'cool' cars and not just boxes on wheels!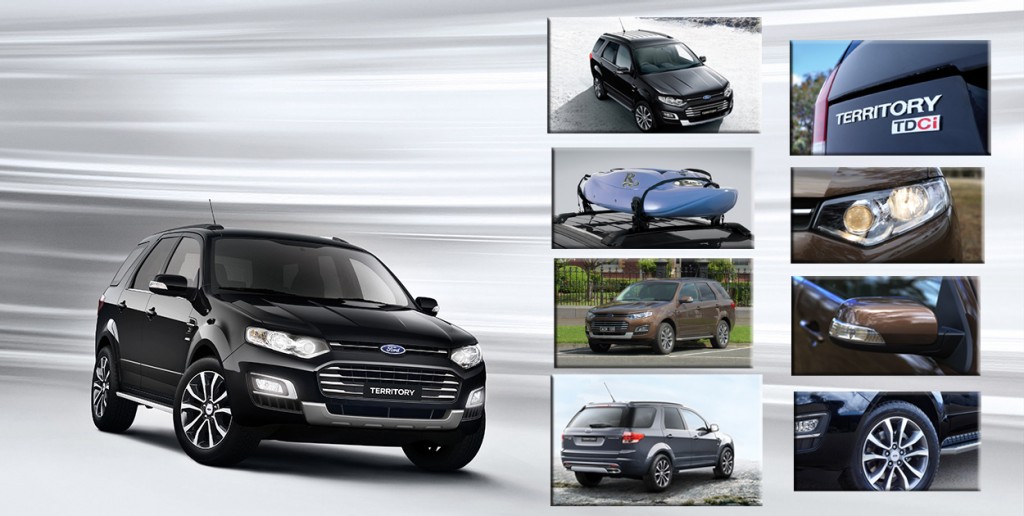 The territory is definitely not the best looking SUV in the market. However, it is not entirely hideous either.
The hexagonal grill, sporty roof rails, bespoke alloy wheels and Ford's trademark swept-back headlamps lend the Territory a resolute stance.
However, this is not a car that you are going to pick up supermodels in!
Do not expect jaws to drop when you drive around in this vehicle. Consider yourself lucky even if you get a second look.
Also, even though the Territory is pretty good sized car (seats 7), it does not have an air of machoism about it. It is not intimidating by any stretch of the imagination.
This thing looks pretty alright for a family car- but it is definitely not a boy's toy!
If you want something that command street cred and respect, you should seriously look at the new Ford Everest!
What Going On Inside?
There is good news and there is bad news.
Let us be done with the bad news first.
The instrument cluster and dashboard feels spartan – despite having been updated.
The Sync 2 navigation system is a bit cumbersome and not as intuitive as expected in this era.
The competition offers much more in terms of aesthetics, quality and features.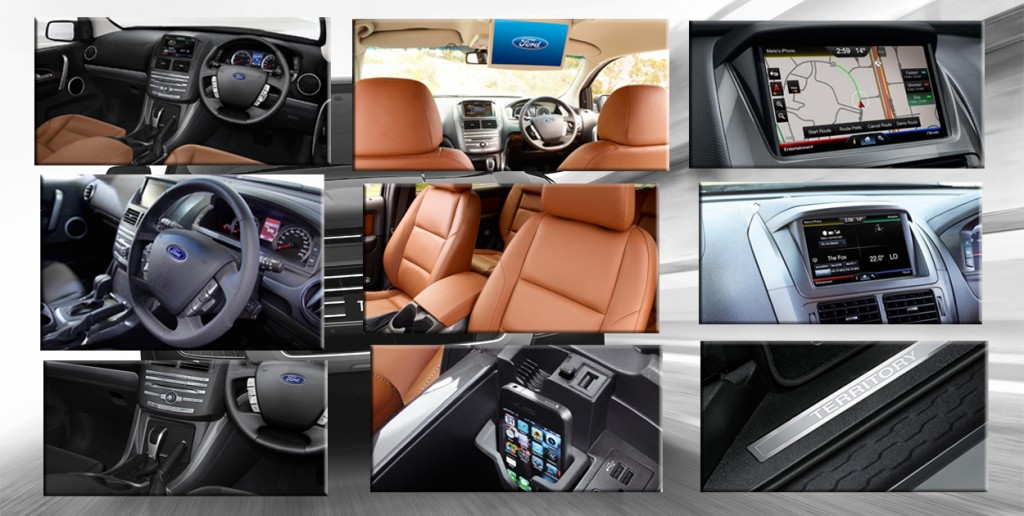 However, on the plus side – the cabin is roomy and comfortable. The front seats are well cushioned and comfortable. The middle row seats too offer good back and under thigh support.
This row is adjustable and can easily accommodate three people. The last row can seat two people – but they would have to be really thin and short.
The last row is best reserved for kids or for emergency situations – like when you're in laws are visiting!
Boot space is limited with the last two seats up but if you use the territory as a 5 seater, you will have one of the biggest boots in the segment (1153 litres with the rear seats folded).
There are also lots of cleverly though-out storage spots for bottles, mobile phones, sunglasses etc.
One of the biggest positives of the territory is that it rides absolutely beautifully!
The ride is among the best in class and the car glides over bumps and potholes effortlessly.
You can even do some moderate off-roading if you decide to get yourself the all-wheel drive version.
If you do decide to go off-roading, always remember that you are in a Territory, not in a Range Rover or a Wrangler!
How Is The Engine And Transmission
The Territory comes with two diesel options – a 4 litre petrol and a 2.7 litre diesel V6.
The diesel offers great drivability and produces 140KW of power and an incredible 440 NM of torque!
The rear wheel drive Territory can be had with either the diesel or the naturally aspirated petrol.
However, the all-wheel drive version is only available with the diesel.
The 6 cylinder inline petrol is no slouch though – it makes 195 KW of power at 6000 rpm and 395 Nm of torque at 3250 rpm.
Both the engines are mated to a 6 speed automatic transmission with formula 1 style sequential shifts.
If you are into camping, we suggest that you get the diesel with the 1600 kg tow pack.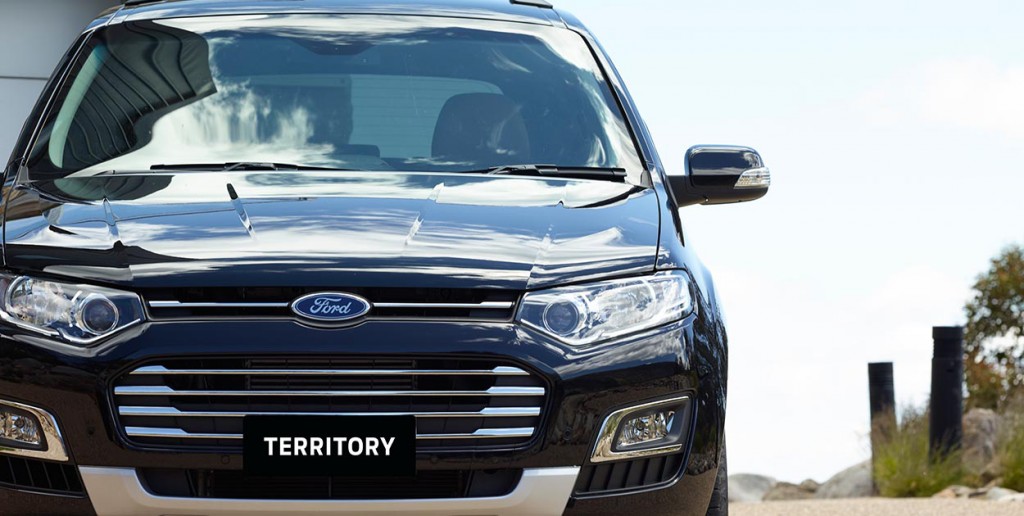 Fuel Efficiency
The Ford Territory is a thirsty SUV. It guzzles up quite a bit of fuel.
Combined fuel efficiency for the petrol is 10.2 litres per 100 km; while the diesel returns slightly better figures at 9 litres per 100 km.
These numbers are not all that bad considering the size of the vehicle.
However, the competition offers smaller engines with more or less the same power output and better fuel efficiency.
The tank size of the territory is 75 litres and this gives it a very good range (750 to 850 kilometres).
Handling
This is where the Territory really scores big.
The handling and dynamics are best in class. The SUV does not feel wallowy in the corners – it is almost car-like to drive.
If you are an enthusiastic driver, you will experience a bit of body roll while turning hard.
However, on the whole, the vehicle changes direction readily and this, combined with the responsive engine – makes it quite pleasurable to drive.
If you want the dynamics of a sedan but the space and ground clearance of a crossover – then this vehicle makes a very strong case for itself.
What Will You Expect To Pay?
| Ford Territory Variant | RRP Price |
| --- | --- |
| TS (4x4) SZ MK2 : 2.7L Diesel Turbo F/INJ - 6 SP Automatic 4D Wagon | $49,990 |
| TX (4x4) SZ MK2 : 2.7L Diesel Turbo F/INJ - 6 SP Automatic 4D Wagon | $45,240 |
| TITANIUM (4x4) SZ MK2 : 2.7L Diesel Turbo F/INJ - 6 SP Automatic 4D Wagon | $56,740 |
| TITANIUM (RWD) SZ MK2 : 2.7L Diesel Turbo F/INJ - 6 SP Automatic 4D Wagon | $51,740 |
| TITANIUM (RWD) SZ MK2 : 4.0L Multipoint F/INJ - 6 SP Automatic - Unleaded Petrol 4D Wagon | $48,490 |
| TS (RWD) SZ MK2 : 2.7L Diesel Turbo F/INJ - 6 SP Automatic 4D Wagon | $44,990 |
| TS (RWD) SZ MK2 : 4.0L Multipoint F/INJ - 6 SP Automatic - Unleaded Petrol 4D Wagon | $41,740 |
| TX (RWD) SZ MK2 : 2.7L Diesel Turbo F/INJ - 6 SP Automatic 4D Wagon | $40,240 |
| TX (RWD) SZ MK2 : 4.0L Multipoint F/INJ - 6 SP Automatic - Unleaded Petrol 4D Wagon | $36,990 |
Tell Me About The Key Features
Key features on the top end model include;
A rear DVD entertainment system
6 way power-adjustable driver's seat with 3 memory settings
Privacy glass at the rear
30 storage compartments in the interior
Satellite navigation system with traffic warning feature
Sync 2 with voice control
DAB+ radio8) Rear view mirrors with auto-dimming feature
8 inch colour touch screen monitor
Audio system with 7 speakers and a lot more…
How Safe Is The Ford Territory?
The Ford Territory is one of the safest family cars in Australia. It has an ANCAP safety rating of 5.
It is equipped with several state-of-the-art safety features such as dynamic stability control, seat belt reminder, side curtain and knee airbags, parking sensors at the front and rear and emergency brake assist.
What's The Final Verdict?
The Ford Territory is very practical and fun to drive. However, it does feel slightly dated and tired.
People who have had this SUV for several years love it to bits.
However, you simply cannot ignore the fact that this SUV will cease to exist in 2016.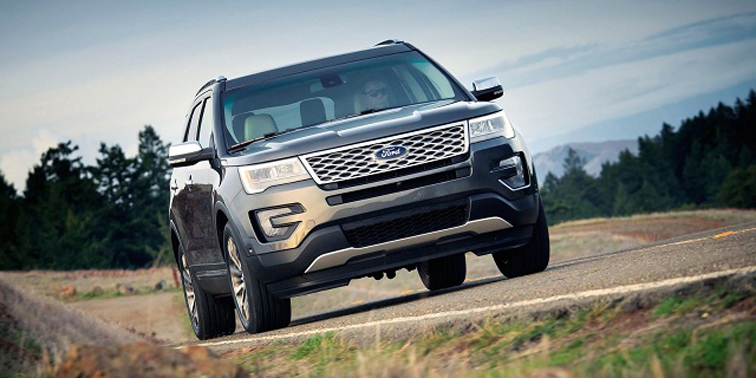 All Ford production in Australia will cease by the end of 2016. So should you hurry to buy a Territory or should you avoid it at all costs?
Well, if you are a die-hard Ford fan, then this could be your last chance to own the Territory and that too at a bargain price.
However, please note that other manufacturers offer better propositions with longer warranty periods.
Also, the Territory will depreciate very quickly – so that is another factor that you should take into account.
The bottom line – This is a fairly competent vehicle but sadly, it is on its last leg.
Better look for something else…
Kia Sorento, Hyundai Santa Fe anyone?