Regularly voted Australia's No.1 people-mover the Kia Carnival is a fantastic and well equipped large family car.
Here's a few compelling reasons why.
a great price per occupant ratio
versatile seating configurations
drives like a car – smooth comfortable ride
punchy V6 engine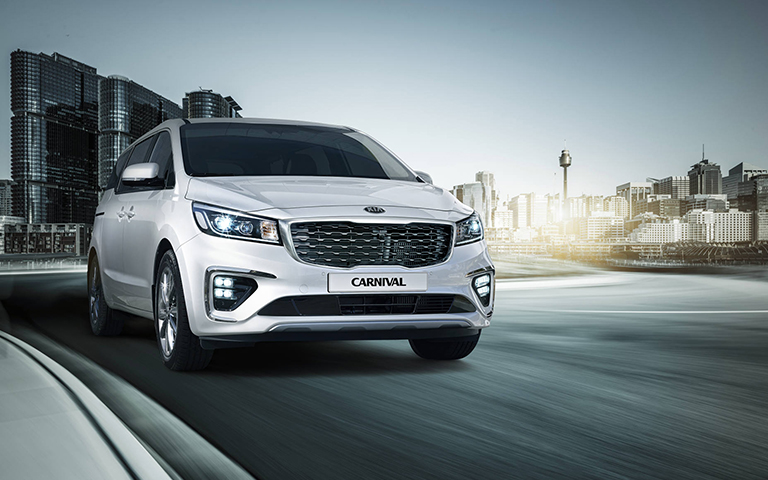 Model Configurations
Carnival S ( 3.3L V6 petrol or 2.2L four-cylinder diesel engine )
Carnival Si ( V6 petrol or diesel )
Carnival SLi ( V6 petrol or diesel )
Carnival Platinum ( V6 petrol or diesel )
Boxy Design No More
Previous years models of the Carnival saw quite a boxy shape that did little to win the car any design plaudits.
In response to increased competition from European and American car manufacturers entering the Australian marketplace Kia have upgraded the styling of the carnival which sees the car now look more fashionable and desirable.
Added to an improved light design, the Carnivals sleek body lines from front to tail create the overall impression of a much slimmer vehicle giving the exterior a far more broad appeal.
Comparing the Carnival with the Selto, although much has changed some exterior features like the tiger-nose grille remain the same.
Coupled with sleek ice-cube LED lamps the carnival now has a subdued look much more fitting of a modern looking MPV category.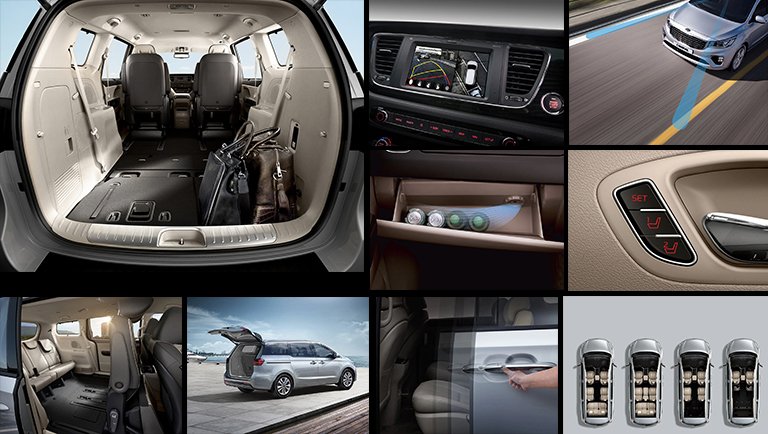 Big sliding doors provide easy access for the back seat passengers and the seating positions provide plenty of leg room as standard but improved upon impressively by a flexible seating arrangement that allows the entire middle row to be unhinged and removed to create a clear walk channel from front to rear.
The Si entry-level model offers a 2-3-3 seating layout. Yep that's 8 persons in one go, comfortably, although it must be pointed out that lap-only seat belt restraints are fitted for passengers in the center rear position of the second and third rows.
But even with all seats fully loaded there is still plenty of room for cargo. The Carnival has an additional 540 litres of boot storage space with even more room for cargo simply by removing the second row and folding the third rows for more haulage space.
( the space-saver spare wheel is fixed to the under body )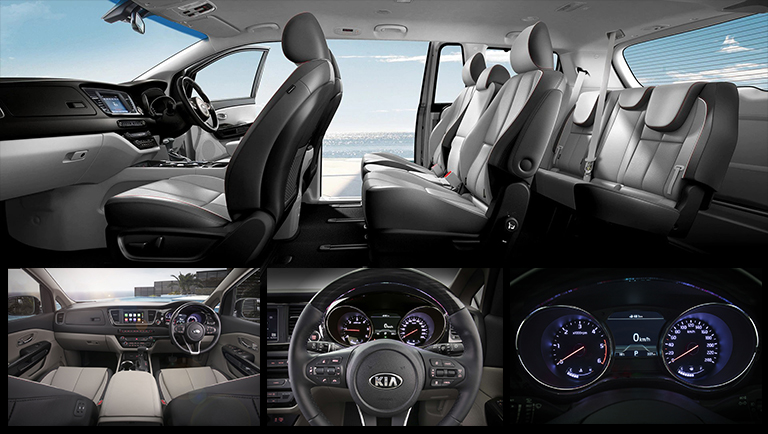 Highlights of the Kia design include power-adjustable heated exterior mirrors, cruise control, remote central locking system, power windows, front and rear air-conditioning, a six-speaker 6CD sound system and USB / 3.5mm audio inputs for axillary tech items.
Under the Hood
Under the hood, the Carnival has undergone a few changes. The Carnival S boasts a 3.3-litre V-profile petrol engine that churns out 206Kw of power at 6000rpm pretty comfortably
The engine also produces a staggering 336Nm at 5200rpm which is impressive for this engine considering the curb weight comes in a little over 2 tonne at 2146kg.
Engine performance below 4000 rpm can be a bit compromised in some urban road networks but nonetheless the Carnivals V-6 remains smooth and responsive enough to allow overtaking or outer lane driving swiftly and safely.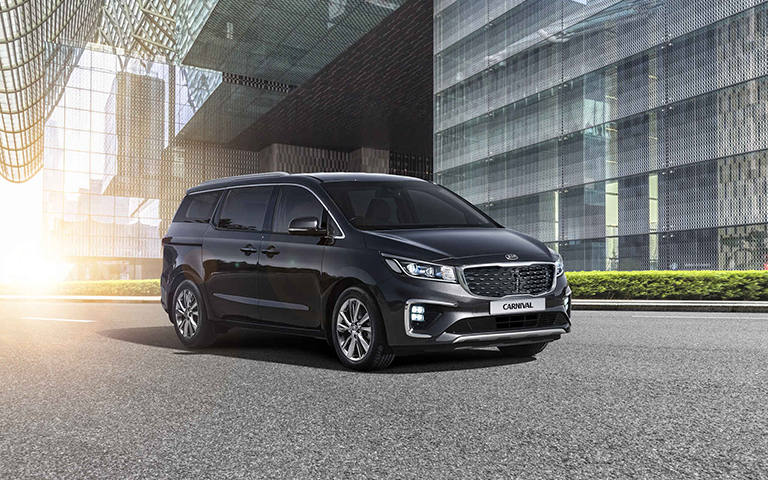 The 2.2L four-cylinder diesel model of the Carnival S is however a bit slower than the petrol motor version.
Although it has better fuel economy and is the better option if you do a lot of excursion driving the diesel model can be a bit noisy driving in city traffic through the lower gear ratios.
While changes have been made, many more features have remained according to industry standards.
Anti-lock brakes equipped with brake assist and brake-force distribution as well as stability and traction control are present.
While the airbags are located on the front, side and curtain the lack of rear parking sensors and reversing camera on the base model is something that should be addressed by Kia for future updates.
Transmission
The Carnival S features an 8-speed automatic gearbox that allows easy comfortable driving on all roads and for all purposes.
Although the drive-train remains as it was with the Selto the Kia's power plant allows tow weight of up to 2000kg.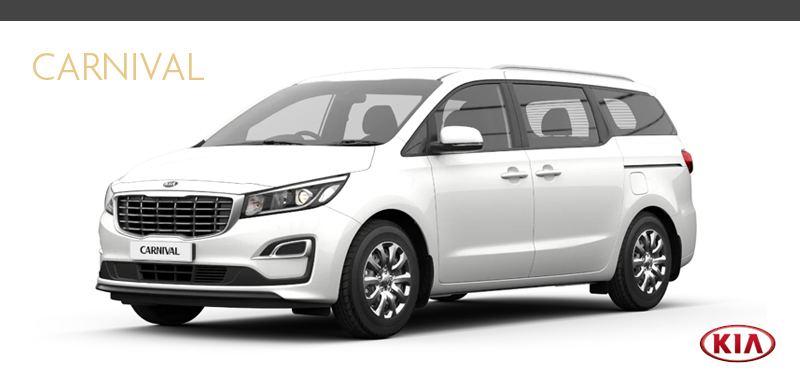 Other Features
The Carnival comes with a standard safety feature of four child restraint anchor points and Kia now offers an unrivalled 7-year unlimited-kilometre warranty to boot.
Wrapping It Up
Huge amount of space
Exceptional comfort level
Drives like a car
7 year warranty
Competitive pricing
Value for money
View our 7 seater cars overview here.
---
Earlier Model Kia Carnival