A decade ago – Hyundai cars were dreary, bland, insipid and uninspiring. The only good thing about them was they were cheap and functional.
If you drove around in a Hyundai in the early 2000s – it meant that you did not have enough money to buy a premium vehicle.
However, Hyundai cars have changed radically over the last few years…and so have perceptions regarding the company's image.
Today, Hyundai cars are considered to be a smart choice.
Take the example of the Hyundai Santa Fe 2023! It is extremely well built, it drives well and is fabulous to look at.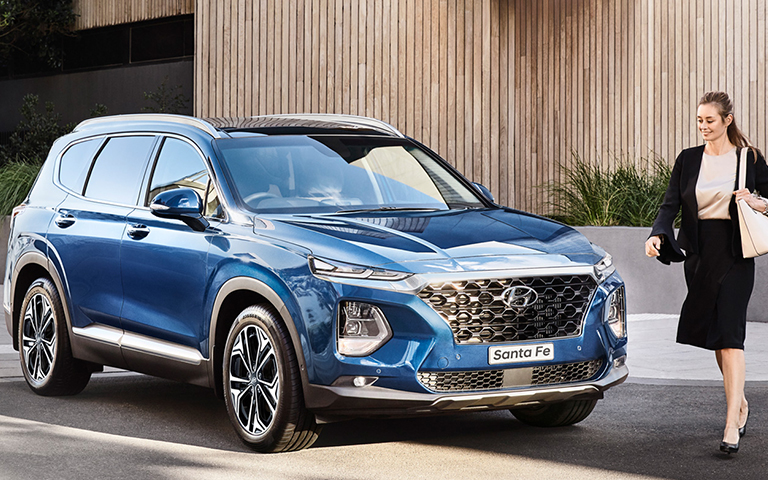 Most important, unlike earlier Hyundai models, this Santa Fe feels like it actually has a soul and a personality.
Having won the best SUV in Australia award ($45k to $65k) – the Santa Fe is a tribute to Hyundai's growth as an automaker!
How It looks From The Outside
The Santa Fe is fabulous to look at! The car has a sleek, aerodynamic silhouette and features Hyundai's trademark fluidic sculpture design.
The front looks futuristic with its exquisitely curved headlamps, and the dominating, heavily chromed grill which, according to Hyundai designers, resembles a waterfall.
The alloys and the roof rails do their part to make the Santa Fe a looker.
The shoulder line goes higher as it progresses to the back, giving the car an alert, arrow-like stance.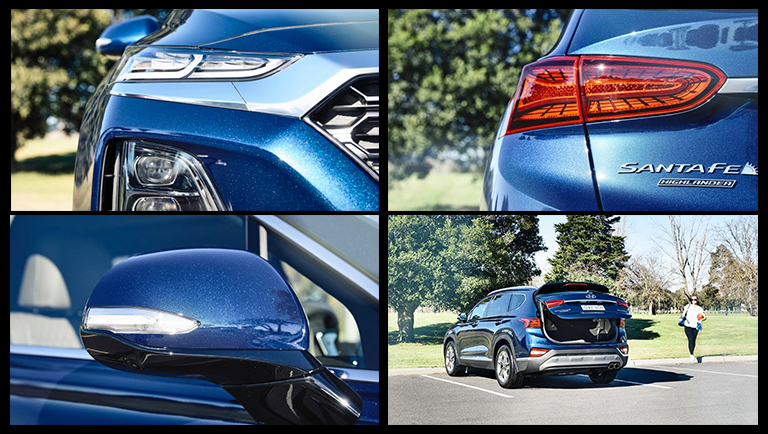 This car feels like it wants to go, even when it is stationary – which is quite an achievement considering that this is a family car!
The rear end too, is neatly designed – the sharp tail-lamps and the spoiler-like overhang of the roof give it a hint of sportiness.
Although this vehicle does not have the brutish good looks of boxy, old school SUVs (Jeep Wrangler), it is still one of the most striking looking family cars in Australia.
What To Expect On The Inside?
The Santa Fe boasts of a best in class interior. The soft touch plastic, fake wood and splashes of leather make the interiors look and feel upmarket.
The first row seats are very well cushioned and offer excellent under thigh support. The seats sort of cocoon the passenger in comfort, thanks to the side and shoulder cladding.
The Santa Fe can be had in a six or seven seat configuration. The six seater version features captain seats in the middle row – perfect for long drives!
Even if you decide against the captain seats, standard middle seating is very comfortable nonetheless.
There is ample knee and headroom for passengers. The ac vents are located at the sides, rather than their usual place in the middle.
The last row passengers also get ac vents and controls and also a storage compartment.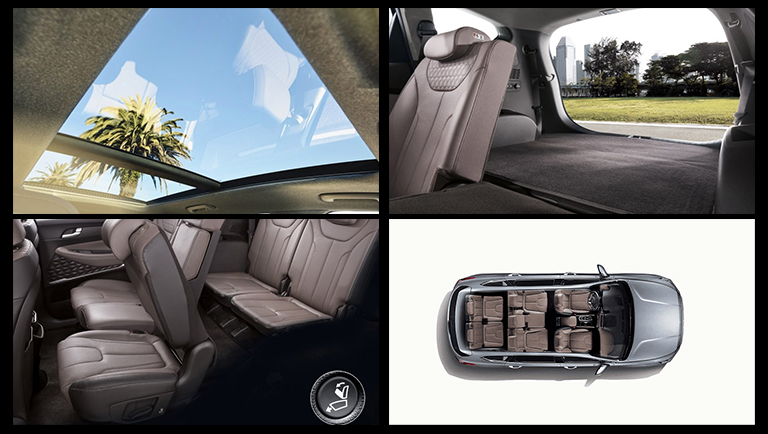 The only problem with the last row is that even though you get decent knee room, under-thigh support is compromised due to the fact that you are sitting quite high.
Even of you are of average height, your knees will still remain in the air.
This is not a huge issue for short drives, but think twice before putting two adults in the last row while embarking upon a road trip across the country.
The cabin never feels claustrophobic, even if you are sitting in the last row – thanks to the extensive sunroof.
The centre console is very stylish and modern, it has a 7 inch display and looks like it will transform into a robot anytime. (Do not press the wrong button, or else this spaceship will take you the moon!)
Still, the infotainment system is quite intuitive and the sat-nav, pretty efficient. Hyundai says that the sat-nav system will be updated free of cost in the future.
You also get a state of the art music system with 6 speakers, which include front tweeters. Steering wheel mounted controls are standard across all variants.
The Santa Fe comes loaded with a bunch of features such as cruise control, rear view camera, cooled glove compartment, daytime running lamps, brake assist, high intensity headlamps that is equipped with their very own washing system and so on.
Seriously, the feature list can run into several pages!
OK.. What About The Engine And Transmission?
The Hyundai Santa Fe is available in 3 progressive variants – Active, Elite and Highlander. (There is also a sporty SR variant).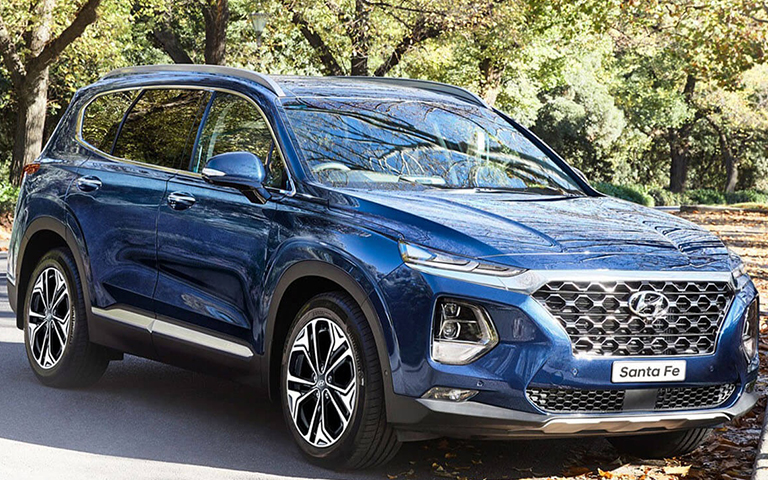 Each variant features more goodies than the previous one.
You get two choices of engines across all versions – a 2.4 litre, 4 cylinder GDI petrol and a 2.2 litre, 4 cylinder CRDI diesel.
The petrol engine produces 141KW at 6300 rpm and 242 Nm of torque at 4250 rpm. The diesel is good for 421 Nm of torque (automatic – 436 Nm) at 1800 to 2500 rpm and 145KW of power at 3800 rpm.
Both the engines are mated to either a 6 speed automatic or manual transmission.
The auto models also have a sequential manual mode, for having a fun in the twisties. However, there are no flappy paddles.
Even though most Santa Fes will predominantly be driven on the road, you can certainly take it off-roading, thanks to the active on-demand four wheel drive system and 185 mm of ground clearance.
Do not expect its off-roadiness to be even remotely close to that of the Range Rover, but camping trips will be a breeze.
If you want to drive across a field or a bumpy road, the Santa Fe does the job easily.
It also has a decent towing capacity (2500 braked/ 750 unbraked) Ride quality is exceptional!
How Much For The Santa Fe?
| Variant | Series | ENGINE & BODY TYPE | RRP Price |
| --- | --- | --- | --- |
| ACTIVE (4x4) | DM MY15 | 2.4L MULTI POINT F/INJ --- 6 SP AUTOMATIC ---Unleaded Petrol--- 4D WAGON | $40,990 |
| ACTIVE (4x4) | DM MY15 | 2.4L MULTI POINT F/INJ ---6 SP MANUAL ---UNLEADED PETROL ---4D WAGON | $38,490 |
| ACTIVE CRDi (4x4) | DM MY15 | 2.2L DIESEL TURBO F/INJ --- 6 SP AUTOMATIC ---DIESEL --- 4D WAGON | $43,990 |
| ACTIVE CRDi (4x4) | DM MY15 | 2.2L DIESEL TURBO F/INJ ---6 SP MANUAL---DIESEL ---4D WAGON | $41,490 |
| ELITE CRDi (4x4) | DM MY15 | 2.2L DIESEL TURBO F/INJ ---6 SP AUTOMATIC ---DIESEL ---4D WAGON | $48,490 |
| HIGHLANDER CRDi (4x4) | DM MY15 | 2.2L DIESEL TURBO F/INJ ---6 SP AUTOMATIC ---DIESEL ---4D WAGON | $53,240 |
| SR CRDi (4x4) | DM MY15 | 2.2L DIESEL TURBO F/INJ ---6 SP AUTOMATIC ---DIESEL --- 4D WAGON | $59,990 |
What's The Road Handling Like?
Expect body roll in the corners.
The steering is a bit vague and not exactly confidence inspiring – just like all Hyundai cars.
Drive it like it should be driven and you will have no complaints.
If you are one of those people who like to drive an SUV enthusiastically, you should look at the Mazda CX9.
How Safe Is The Hyundai Santa Fe?
Family car buyers place a lot of importance on safety and the Santa Fe delivers in this aspect too.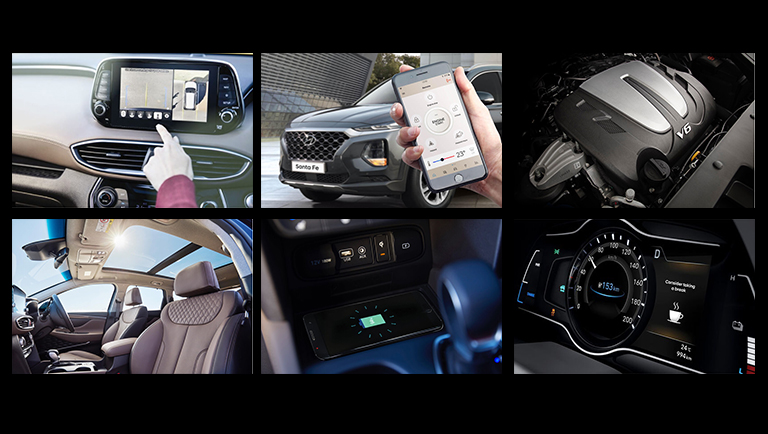 It has an ANCAP safety rating of 5.
It is loaded with passive safety equipment such as:
ABS, electronic brake distribution
seat belt reminder system
parking sensors
side and curtain airbags
thorax and pelvis airbags
driver knee airbag
and 3 point retractable seat belts on all 7 seats etc.
Final Verdict
The Santa Fe has a five year, unlimited kilometre warranty.
The fuel economy will not thrill you – but this is a seven seater after all.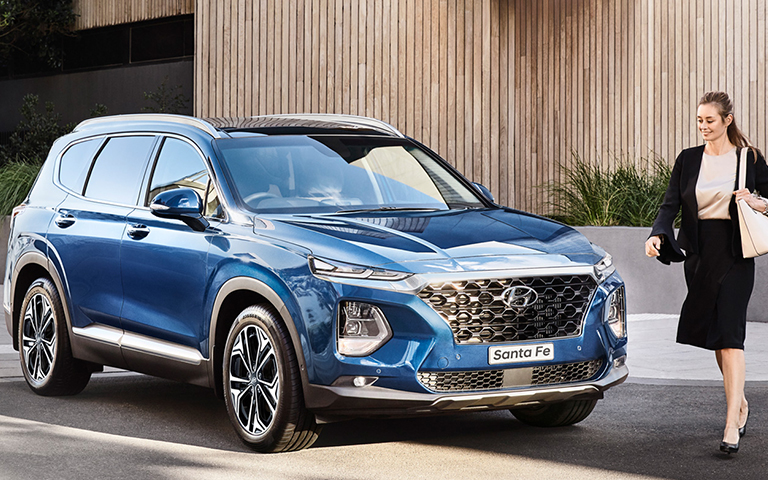 We found only one flaw – the pricing could have been slightly more competitive.
Other than that, if you want a stylish, capable SUV with rock solid reliability, then the Santa Fe makes a fantastic contender.