Although most luxury SUVs owners will rarely put their cars to the ultimate test, owners of LX can have confidence in their vehicle in complicated terrains and poor weather conditions.
This philosophy was declared in 1996 when Lexus introduced its first LX to the market.
While the automotive marketplace has transformed since 1996, the new shape introduced in 2014 for the Lexus LX-570 follows the very same philosophy.
Our Review Lexus LX-570 8 Seater SUV
By offering lots of good things, this vehicle can compete well in this class and can be used in urban streets as well as off-road tracks.
Driving experience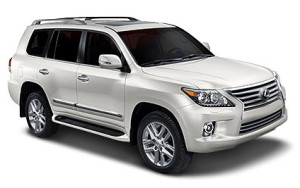 The LX-570 delivers a comfortable every day driving experience, owing this to its huge adaptive dampers, which offer a silky ride while at the same time mitigating body roll.
With its tough and rough construction, automatically adjustable suspension as well as 4-wheel-drive system, the car is among the few true mountain goats on the trails.
It's Crawl Control system can automatically control the brakes and help maintain a steady speed on steep roads or while riding on rough surfaces.
Interior
The interior of the LX-570 is equipped with leather upholstery, driver seat memory functions, heated power front seats, power-sliding second-row seat, power-folding third -row seat.
That's not all. The SUV also provides a Luxury package. With the package come ventilated front seats, a heated steering wheel, a cooled storage container and improved leather upholstery, front-and side-view parking cameras, as well as front and rear parking sensors.
Occupant safety
Lexus has made every effort to protect both you and your family from all sides if the worst happen. Like its predecessor, The new LX 570 features safety technologies that keep both you and your family safe on the move.
The vehicle comes with front, front knee, front side, second-row- side, full-length side-curtain airbags and stability control systems.
Pre-collision brakes are also available as an option. Packed with vibrant radar cruise control, it has the ability to identify accidents before they occur.
Cargo capacity
One drawback to the car's interior is limited space than you may expect given its size. The luxury Lexus LX 570 comes with 15.5 cubic ft. of space behind the 3rd row, over 83.1 cubic ft. with the center and back rows folded.
While the LX 570 has room for 8 passengers, the 3rd row is squeezed and best left to kids. This is because its third-row seats do not fold flat as in many other SUVs, but rather fold to the side.
Engine
The all new Lexus LX 570 is powered by the 5.7​​ liter V8 engine which pairs with a 6-speed automatic and generate power of 270 kW at 5600 rpm and 530 Nm of torque at 3200 rpm. This is enough output to power the huge SUV over steep hills while towing 3500kg. Its fuel efficiency is 14.8 L/100. (Combined)
One can argue that this model is a gussied-up edition of the big Toyota Land Cruiser, but the Lexus edition outsells its less costly counterparts. The powerful, classy and comfy Lexus LX 570 remains true to traditional values of Lexus. Although the driving dynamics are pushed-down for a huge rig, some body pitching stays over huge bumps.
Other Lexus Reviews
What about a used family car?