Today's Automotive World is an environmentally conscious space where engines and cars are becoming smaller and more efficient every year.
And because smaller vehicles are cheaper to buy, run and insure, many buyers now prefer to buy hatchbacks instead of big fuel-thirsty road hogs.
Instead of opting for massive SUVs, many families are downsizing & choosing crossovers as their primary vehicle.
However, with the release of the new GL model Mercedes have signalled their intent to remain totally oblivious to the concept of downsizing.
It's a behemoth of an SUV  – ruling the roost even in the USA  where it outsells the highly coveted and much admired Range Rover together with all other makes and models in its class.
So how does the second generation GL fare in Australia ?
Find out in our exclusive Mercedes GL review.
Exterior Styling
The GL is the biggest thing on four wheels built by Mercedes – apart from commercial and military grade vehicles.
The Audi Q7 and the Range Rover are not small vehicles by any stretch of the imagination but standing next to the GL neither make can compare.
Measuring 5.2 meters long and standing almost 2 meters in height, these kind of dimensions usually equate to a big slow vehicle, so it is a complete surprise to discover the GL mammoth go from 0 to 100kph in less than five seconds – depending on selected engine size of course.
And that is seriously mind blowing for a huge SUV – little wonder then that these machines sell in huge numbers.
The GL is beautifully designed and not boxy at all. Despite its massive size, the vehicle looks proportionate and elegant.
The front is dominated by the large three-pointed star emblem plus signature Mercedes headlamps and the shoulder line is strong yet slightly swoopy – giving the car a dynamic yet butch appearance.
Although the GL does not have the most stunning rear it is nonetheless styled in a simplistic, almost minimalist fashion.
With exquisitely cut alloy wheels, Roof Rails, wide Pirelli Tyres and aggressive styling upfront  the GL has oodles of street presence.
Developed from the same monocoque frame of  its smaller sibling – the ML – Merc have managed to add more space and an extra row of seats.
They have also given it a more upright stance allowing the GL to stand tall and proud. Thankfully, it gets aluminium step boards allowing passengers to hoist themselves up and into the cabin with the minimum of fuss.
However, the doors do open quite wide and this makes ingress and egress more likely.
Interior
On the inside, the GL has the look and feel of a luxurious private jet.
The alpaca grey leather seats, 4 spoke steering wheel covered in Nappa leather and ritzy metallic bits all come together to create a sense of opulence.
Fittingly, Mercedes have included Eucalyptus wood trim as an option to satisfy potential punters who may not be huge fans of the metallic accents.
The USP of this vehicle though is the massive amount of space inside compared to most seven seat alternatives, especially with regard to the last row of seats which up to now has been the reserved domain of child seating.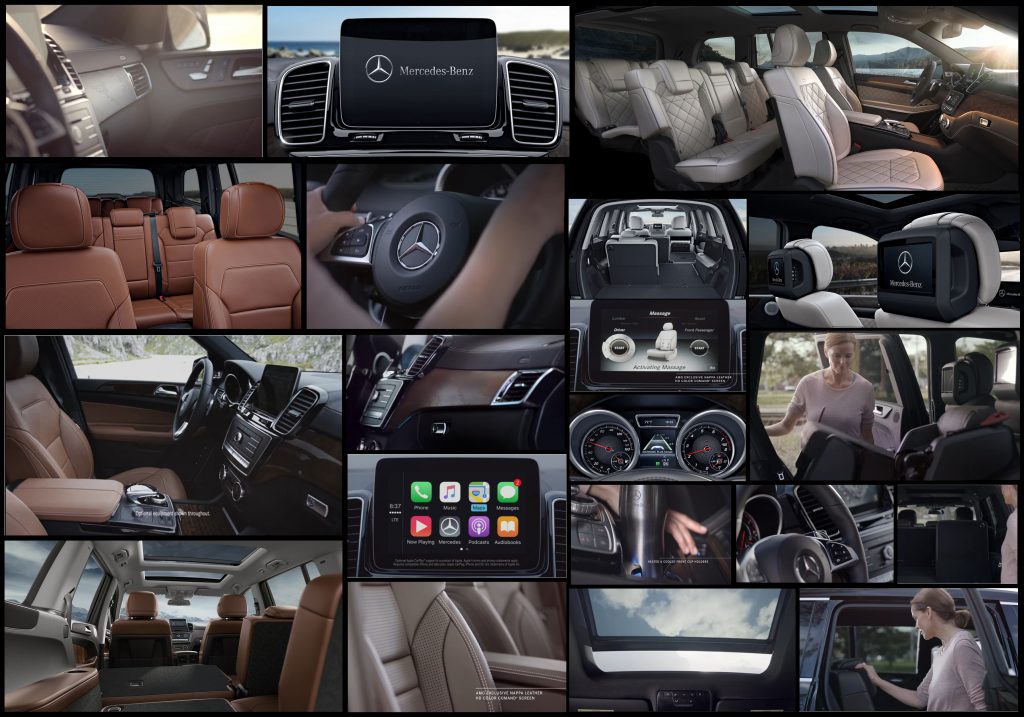 However, two grown adults can fit easily into the back seat of the GL with no complaints about head, knee or legroom space, although, as expected, under-thigh support is not great but is much better than competitor makes & models.
Most importantly, any passengers in this area are comfortable in a real seated position and not a squatted position as is the case with many competing models of this type.
All seats are electronically adjustable meaning you get seven people into this family SUV without using too much muscle and all models of the GL class receive automatic climate control and a glass electric sun-roof as standard.
Even the entry level model gets a bunch of goodies such as
        

7inch TFT Display

        

Satellite Navigation

        

Cruise Control

        

360 Degree Camera

        

Electrically Adjustable Steering Wheel

        

Driver and Front Passenger Heated Seats

        

Auto-Dimming Rear View Vision

        

Dual Zone Climate Control

        

Lots More
And yes, there is a lot of luggage space even with all the seats occupied.
Engines and Transmission
The entry level GL 350 BlueTec is powered by a 3 litre turbocharged diesel engine that produces 190kW and 620Nm of torque.
The engine is mated  with a 7 speed automatic transmission and is the most efficient engine of the lot with a fuel efficiency of 7.7l per 100km combined
The mid-level GL 500 is propelled by a 4.7 litre bi turbo V8 engine that churns out 320kW and 700Nm. Combined fuel efficiency is 11.5l/100km.
For those who feel that 700 Nm is not quite enough, there is the top of the line model GL 63 AMG.
This model goes from 0 to 100 in 4.9 seconds, thanks to a 5.5 litre V8 engine that bangs out 421kW of power and 760Nm of torque mated to a 7 speed automatic transmission.
Fuel efficiency is at a claimed 12.3l/100km combined.
Ride and Handling
All models get active Air-Matic suspension with adaptive dampers making the ride second to none in this reviewers opinion.
Granted, the steering is a bit light, as is the case with all Mercs but most drivers will appreciate the light steering as it makes it much easier to manoeuvre this colossal vehicle.
When it comes to staying attached to the road surface the 295/40 extra wide Pirellis ensure superior maximum grip at all times.
Mercedes have invested heavily into the dynamics department, the result being that the GL goes around corners with surprising agility despite the fact that it weighs 2.5 tons.
Of course being a Merc means the ride quality is superb; although the ride does firm up once sport mode is engaged.
The GL is not just a city car – it is a full blown SUV and it is phenomenal off the road too – thanks to all wheel drive and computers that work furiously to ensure precise power delivery and traction.
Safety
The GL is brimming with safety features and equipment.
Leading the way is
        

Active Lane Departure Warning

        

ABS

        

Airbags

        

Seatbelt Warning Signals
The GL also gets Mercedes adaptive cruise control system.
This system allows the driver to maintain and alter a fixed distance to the car in front.
If the car in front speeds up, so does the GL, if the car in front decelerates, the GL  slows down too.
Brilliant in traffic, this system can bring the GL to a complete standstill if needed.
Final Verdict
Even the base model, the GL 350 costs upwards of 130k. However, it is a lot of car for the money.
So, if you have deep pockets and are in the market for a premium family car that will ferry around 7 in supreme comfort, nothing comes remotely close to the GL.
It is extremely well built, feels like a luxury suite on four wheels, but is big, spacious, and easy to drive.
With more than 180,000 GLs being sold in the US since its launch we reckon this will be a top-seller in Australia too!
Here at FCA, we highly recommend it.