For many years, Toyota has been the king of dual cab recreational ute segment. However, its dominance is coming under threats from a rising army of options, from Ford to Mazda to Volkswagen's classy Amarok.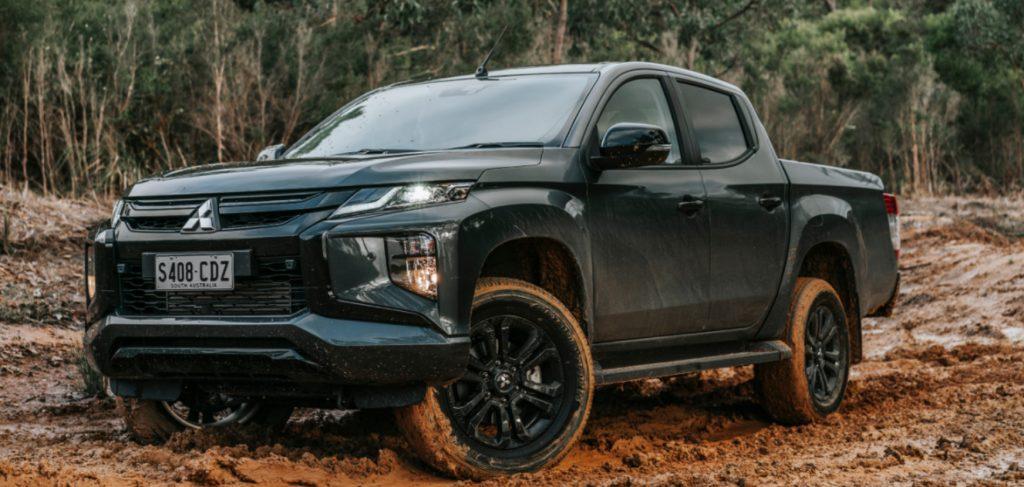 Now Mitsubishi Triton has joined the race and is showing no signs of backing off.
There are more sophisticated ute segments in the market, but not many can meet your household need as well as the Mitsubishi Triton can.
While its economy is a bit disappointing, its towing firmness is very much its muscles.
Mitsubishi Triton GSR Utes
Looking for a tough ute that can handle any job?
The Mitsubishi Triton GSR is the perfect ute for tradies. It's got a powerful engine, plenty of torque and an impressive towing capacity. Plus, it comes with all the features you need to get the job done right.
With the Triton GSR, you'll be able to take on any job, big or small. So go ahead and put it to the test. You won't be disappointed.
Mitsubishi Triton Exterior
There is a huge range of body variants: single cab, extra cab or double cab. Then there is the option of 2 or 4-wheel drive.
In terms of exterior appearance, Tritons are very basic with short steel wheels as well as unpainted bumpers.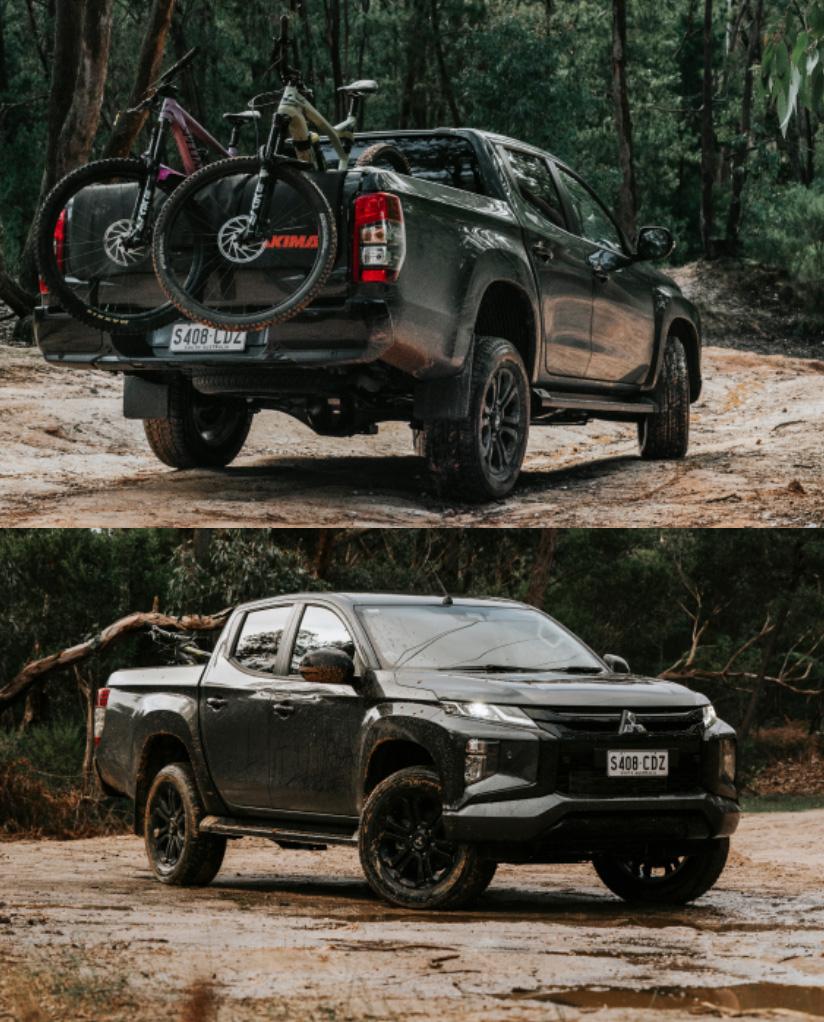 The car is also smaller in terms of the size and its tires are not designed for grip. However, for load-carrying or towing, Triton is famously capable.
Mitsubishi Triton Interior
While it is rough on the outside, one does not need to rough it in the inside. The interior boasts an array of luxurious features for a comfy drive. The dual cab is ergonomically made which is vital when driving for a long time.
The dashboard is easy to read and has all the important information at a glance, while the comfortable seats make it a pleasure to drive long distances.
The Triton's cabin is also spacious, giving drivers and passengers plenty of room to stretch out. And with a variety of storage areas and compartments, it's easy to keep the interior tidy and organised.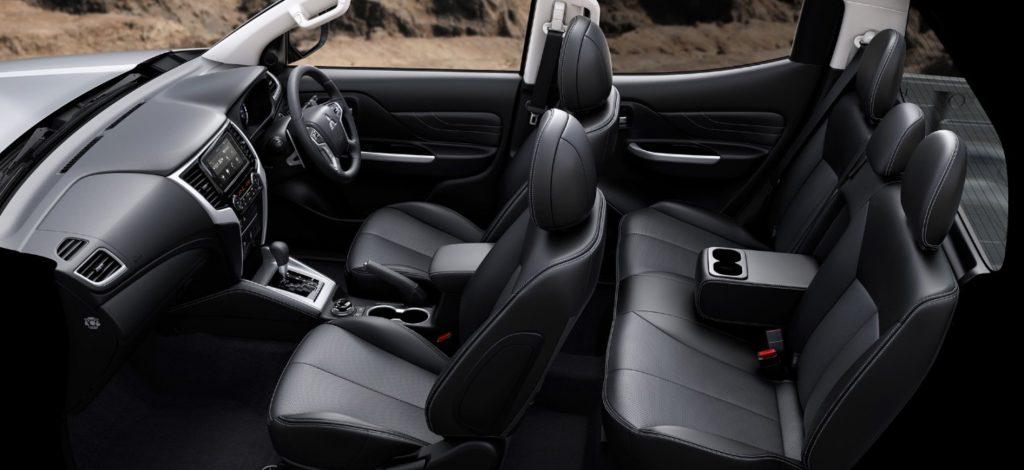 There is plenty of head, shoulder and leg space in the both the rear and the front seats to accommodate 5 people.
The ute comes with gear knob and leather steering wheel to provide extra comfort to the car's driving experience.
Mitsubishi Triton Engine
The Mitsubishi Triton 2023 is a workhorse of an engine. It's got a ton of power and can pull heavy loads. It comes with a powerful 2.4L MIVEC engine that provides great fuel economy and acceleration.
It also comes with a five-speed manual transmission or an optional INVECS-II automatic transmission.
The Triton is available in both two-wheel drive and four-wheel drive configurations, and it can tow up to 3,500 kilograms.
It has a payload capacity of 1,054 kilograms and a ground clearance of 205 millimetres.
Mitsubishi Triton Technology
The vehicle features sports mode automatic transmission which means you can switch between the simplicity of an automatic or enjoy the manual control.
For your convenience, cruise and audio controls are fitted in the steering wheel.
This means you can access all of your favourite music without taking your hands off the wheel. It also comes with the state-of-the-art connectivity system which uses Bluetooth to connect your devices.
Ensuring safety while driving, you can control the main phone calls with a voice command or steering wheels controls.
Mitsubishi Triton Safety
Both the 4WD and the 2WD Tritons are full of features that you would not expect from a real work and off-road car.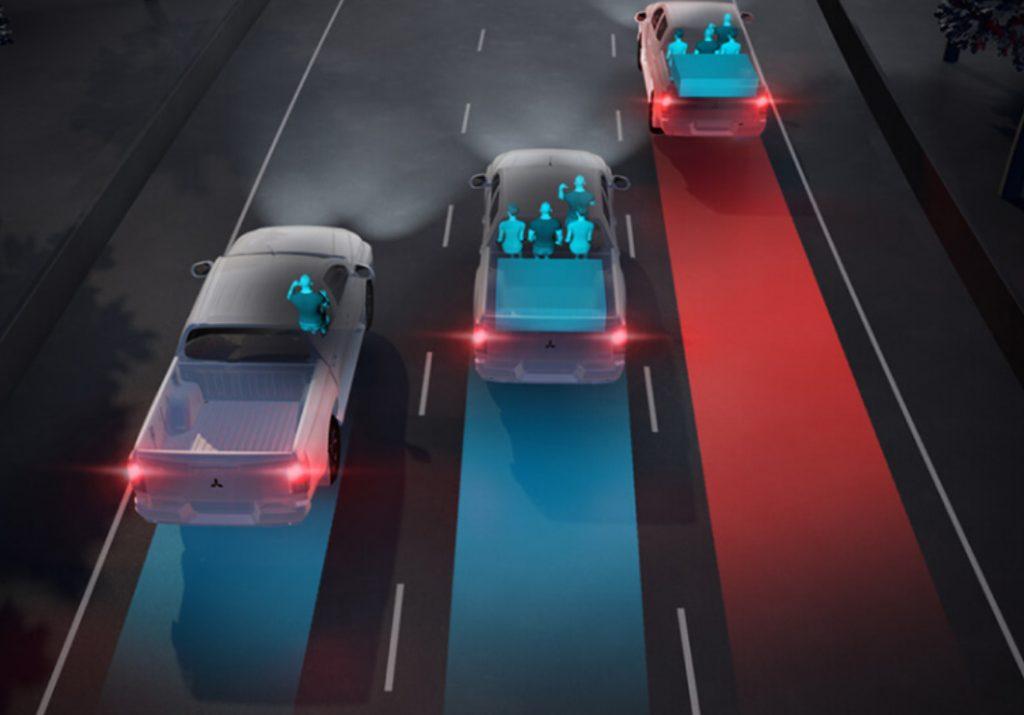 Safety Features of the Mitsubishi Triton
The Mitsubishi Triton GSR is a high-performance pickup truck that features a variety of safety features to keep drivers and passengers safe. Some of these features include:
– Airbags for the driver and front passenger
– Side curtain airbags for the front and rear passengers
– ABS brakes
– Electronic stability control
– Traction control
– A rearview camera
– Emergency brake assist
– And more!
With these safety features, the Mitsubishi Triton GSR is one of the safest pickup trucks on the road.
The vehicle has earned a 4-star safety rating – very re-assuring if you are towing big load or you are off the rim of the map.
The interior is mounted with driver and front airbags to protect the occupants in case of a head-on collision.
There are also side airbags fitted to all double cab models for optimal safety in case of a side-on collision.
All the side airbags activate from the seat's side to guard the torso while the curtain airbags inflate from the roof to guard the head.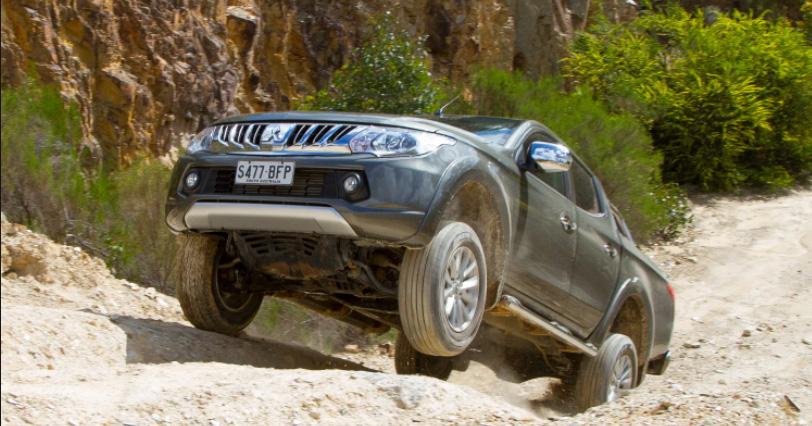 Wrapping it up
All in all, the Mitsubishi Triton is a great vehicle for those looking for an affordable and reliable option. The pickup truck offers plenty of features to make your daily commute or weekend getaway more enjoyable, from the comfortable cabin to the powerful engine.
While it may not be perfect for everyone, we think that most drivers will find plenty to like about the Triton. If you're in the market for a new ute, we highly recommend giving the Triton a closer look.