Subaru proves that you can teach new tricks to an old dog!
The Subaru Outback has always been popular in Australia due to its practicality and reliability.
A few years ago – the Outback had few rivals. However, the mid-sized SUV/crossover segment is becoming increasing competitive with each passing day.
Audi, Mercedes, BMW, Mazda, Kia, Toyota and almost every other major car manufacturer has a pretty decent offering in this class.
Hence, in a bid to snatch a bigger piece of the pie, Subaru has given the Outback a thorough makeover.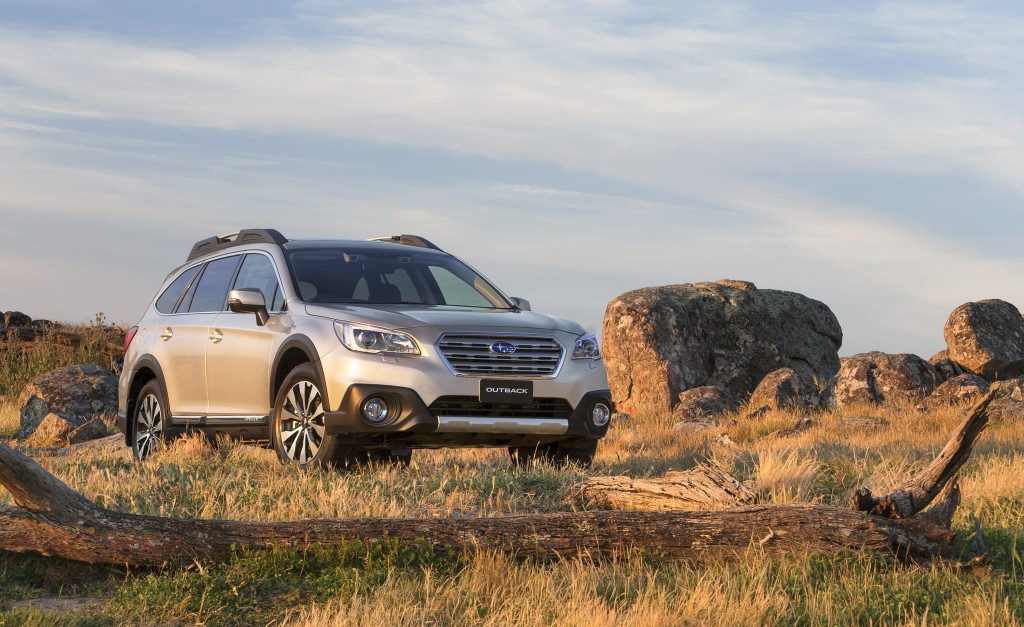 The new model comes out all guns blazing – it is taller, wider and longer than the previous car. It also gets a smart interior and a long list of features.
All this, along with aggressive pricing and a 5 star safety rating should set the sales charts on fire for Subaru!
Show Us the Exterior Styling
Earlier models looked slightly awkward and quirky – the emphasis was on pragmatism rather than histrionics.
As a result, the car gave the impression of being dull and lethargic. However, the same cannot be said about the 2015 model.
The new Outback is one of the best lookers in its class. The styling is cohesive, proportionate and balanced.
The most remarkable changes are at the front. The sophisticated LED headlights and trademark hexagonal grill lend a sense of intent and agility to the vehicle.
It also gets chiselled shoulders, tighter hips, optional 18 inch alloys, a sporty rear spoiler and part-LED taillights.
This car does really look ready to take on the Australian outback!
How Is the Interior Design?
The Spartan interior of the previous models was a big let-down. However, the interior of the new car has undergone substantial improvement.
As soon as you get into the vehicle, you immediately notice that the cabin feels very spacious and airy.
In contrast to other crossovers which often feel claustrophobic in the back, the rear seat of the Outback has ample knee and legroom.
The car will surely find favour with families as it can seat 5 people (and the dog) comfortably.
Moreover, the back seat can be reclined for even more comfort on longer journeys.
The materials on the dash are of much higher quality and for the first time since its launch, the Outback actually manages to feel premium and luxurious.
The infotainment system is quite user friendly and straightforward.
However, if you are geeky and like to tinker around, you will notice that there are plenty of screens to play with.
The maintenance remainder screen is a very thoughtful addition. It tells you which part of the vehicle needs work.
The boot of the outback is bigger than most modern apartments! It measures a massive 1848 litres with the rear seats folded down.
Even with the seat up, the boot amounts to an impressive 512 litres, which is 22 litres more than before?
The power tailgate with a memory feature is also quite useful and convenient – and cool too! All in all, the Outback is a very nice place to be in.
You get oodles of space, good connectivity (satnav, Bluetooth), fantastic audio (optional 12 speaker Harman Kardon), rear AC vents and lots more.
There are 10 gauge lighting options to choose from.
Engine, Transmission and the Handling
The Outback comes with 3 engine options. There is the familiar 2 litre, 4 cylinder boxer diesel; which produces 110KW and 350 Nm.
There are 2 petrol engines – the 2.5 litre, 4 cylinder unit churns out 126 KW and 235 Nm while the powerful 3.6 litre 6 cylinder motor makes an impressive 191 KW and 350 Nm.
You will surely enjoy blasting around in the 3.6R in S mode!
The engines are mated to either a manual or an automatic transmission (CVT). You can also have the Outback in four wheel drive.
The automatic model gets paddle shifters and although most CVTs are slow and confused, this one feels pretty responsive.
Overtaking does not require meticulous planning and the power is available whenever you need it.
Unlike other crossovers which have high body roll, the Subaru has excellent dynamics.
It feels pretty planted around the corners- thanks to the active torque vectoring system. This system applies brakes to the inner wheels while turning at high speeds.
Do not expect Ferrari 458 Italia-like handling though; after all, this is a family SUV with 200 mm of ground clearance.
The braked towing capacity is 1500 kg, 1700 kg and 1800 kg for the 2.5i, 2.0d and 3.6R engines respectively. This, added to roomy boot totally does away with the necessity of owning a home!
The Safety Features
With a 5 star ANCAP safety rating, this car is as safe as the vault of a Swiss bank!
The hallmark of the 2015 Subaru Outback is the Eyesight system, which detects obstacles up to 110 meters afar and can take control of the throttle and brakes in order to avoid accidents (if required).
Note: The eyesight camera is only available on petrol models.
In addition to this, the Outback gets;
dual front airbags
dual side airbags
driver knee airbags
electronic stability control
lane departure warning
3 point seat belts and curtain airbags.
What Would You Expect To Pay?
The new Outback is priced very competitively. In fact, prices are up to 18 percent lower than the previous model. This improves the car's appeal by leaps and bounds. Subaru has definitely brought it's A game to the table.
Style
Description
MSRP
4-Door Wagon 2.5i
Regular Unleaded H-4, 2.5 L
All Wheel Drive
$24,895
4-Door Wagon 2.5i Limited
Regular Unleaded H-4, 2.5 L
All Wheel Drive
$ 29,995
4-Door Wagon 2.5i Premium
Regular Unleaded H-4, 2.5 L
All Wheel Drive
$ 26,995
4-Door Wagon 3.6R Limited
Regular Unleaded H-6, 3.6 L
All Wheel Drive
$ 32,995
4-Door Wagon PZEV 2.5i
Regular Unleaded H-4, 2.5 L
All Wheel Drive
$ 25,195
4-Door Wagon PZEV 2.5i Limited
Regular Unleaded H-4, 2.5 L
All Wheel Drive
$ 30,295
4-Door Wagon PZEV 2.5i Premium
Regular Unleaded H-4, 2.5 L
All Wheel Drive
$ 27,295
Prices for the base model (2 litre diesel manual) begin at $35,490 while the top end 3.6R costs $47,990.
This car will give nightmares to other mid-size SUVs. Mazda, Kia – better put on your thinking cap and come up with a way to make your cars cheaper!
Looks like things are going to get really torrid in this segment! This is good news for car buyers though – better deals at lower prices.
Maintenance costs are low owing to the 3 year unlimited kilometre warranty, lifetime service program (capped) and improved fuel efficiency.
(Subaru claims 5.7l/100 km for the 2.0 diesel manual!)
Final Verdict
The all new 2015 Subaru Outback ticks all the right boxes as a family car.
It is affordable, comfortable and spacious.
The ride quality is amazing thanks to the MacPhersun strut front and double wishbone independent rear suspension.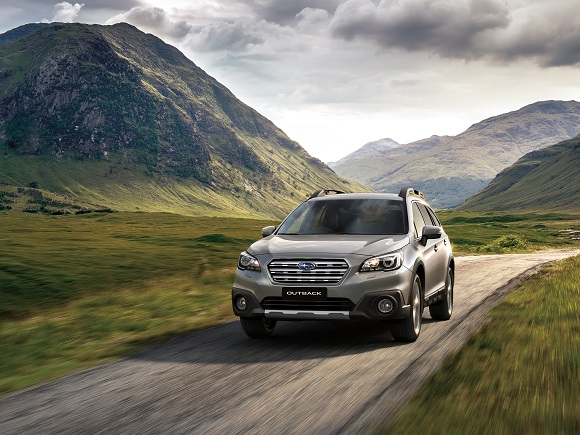 It is well refined – NVH levels are 10% lower than the earlier model. It has a set of proven, frugal engines and the added bonus of four wheel drive.
If you want go-anywhere ability without the hassle and expense of owning hardcore, full size SUV, then the Outback fits the bill really well.
It is a sensible, dependable machine. Also, unlike most sensible cars, it is also quite a looker!