The tough all new Toyota Hilux has won the hearts of many car enthusiasts thanks to its improved features. The new model has been designed to make it not only durable, but highly versatile as well.
Toyota has carefully considered every detail right from body choice, engines and accessories to make sure that Australia's toughest car is also Australia's most handy car.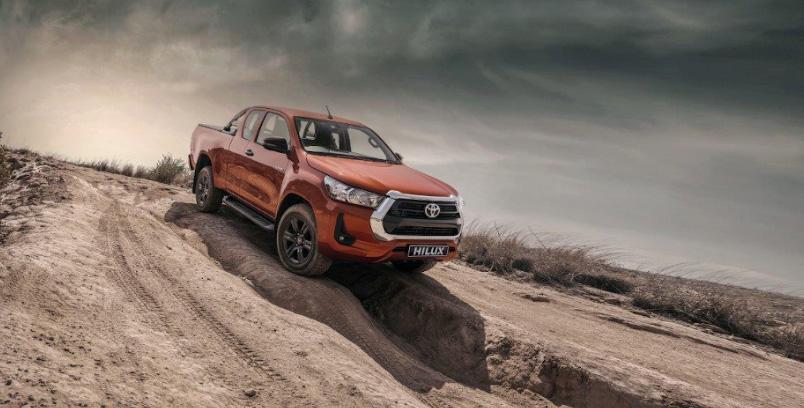 If you're looking for a tough and reliable Ute that can handle just about anything you throw at it, the Toyota Hilux Twin Cab is a great option.
With a powerful engine, rugged build, and comfortable interior, this vehicle is perfect for anyone who needs to get work done.
The Toyota Hilux Twin Cab is perfect for tradies. It's got plenty of power and great features that will make your work easier.
With a large load space, you can fit all your tools and equipment in the back with ease. And with its tough construction, you know the Hilux can handle anything you throw at it.
The Toyota Hilux Design
The latest model has retained almost all the qualities of its predecessors. The design changes are very minimal, and the main change is the new grill.
Toyota engineers have worked tirelessly to improve its driving experience. Suspension system is much better as it minimises noise and vibration.
Apart from these features, the new model 4wd has a towing capacity of up to 2500 kg. It should be noted that Toyota has applied European steering box rather than the Japanese steering box.
All of these latest updates apply to both Single and Extra Cab models.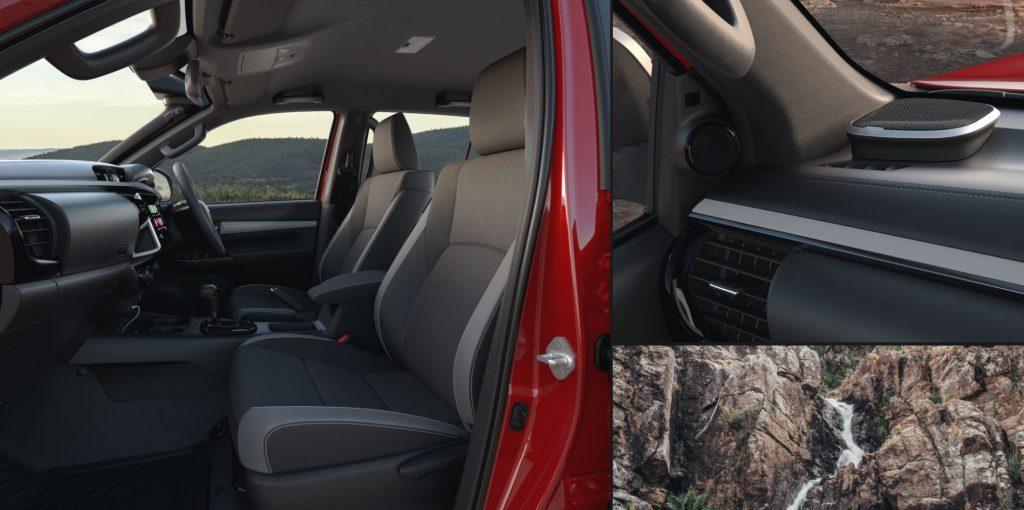 The Interior Toyota Hilux Twin Cab
The interior of the Toyota Hilux is designed to be both functional and comfortable. The front seats are spacious and supportive, with plenty of head and legroom for taller drivers and passengers.
Cabin entry is aided by grab-handles and side-steps, and when inside the occupants cloth-upholstered, form-hugging seats provide great comfort.
The sizeable side windows afford outstanding vision, though the view to the back is restricted. The door side pockets are not huge and the glovebox is a bit small.
However, there is a decent storage bin, overhead sunglasses storage, slide-out front cup holders, and a range of nooks for valuables.
The rear seats are also roomy, and can easily accommodate two adults or three small children.
The cabin is well-insulated from noise and temperature extremes, making it a pleasant place to spend time on long journeys.
There are plenty of storage pockets and cubbies throughout the cabin, plus a large glovebox and centre console for storing essential items.
The Hilux Twin Cab comes with a standard seven-inch touchscreen infotainment system, which is easy to use and packed with features including Bluetooth connectivity, satellite navigation and DAB radio.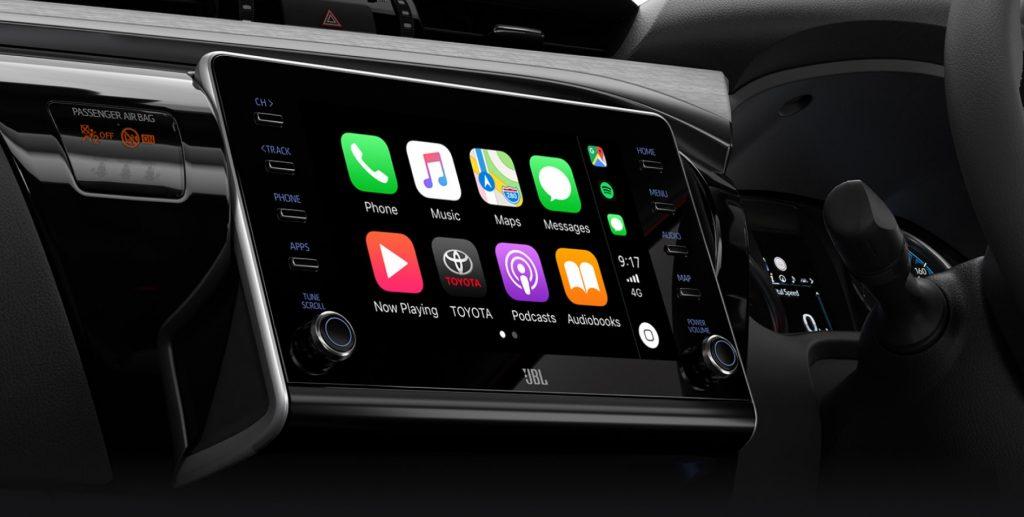 Technology Onboard Toyota Hilux
Toyota strives to manufacture cars to match customer interest and therefore they usually are built with cutting edge technologies to suit your taste.
The 2023 model is packed with modern technologies that make it not only a sturdy, uncompromising ute but also a highly versatile machine.
Safety Features of the Toyota Hilux Duel Cab
The Toyota Hilux Twin Cab has a number of safety features that make it a safe choice for drivers and passengers.
Some of these features include:
Anti-lock brakes: These brakes help to prevent the vehicle from skidding or locking up when you brake, which can help you stay in control during a sudden stop.
Airbags: Both the driver and passenger seats have airbags to help protect you in the event of a collision.
Child safety locks: These locks help to keep children safe by preventing them from opening doors or windows while the vehicle is in motion.
Seat belts: All seats in the Toyota Hilux Twin Cab are equipped with seat belts to help keep everyone in the vehicle safe during a trip.
The 2023 model features power mirrors and windows, cruise control, basic air-con, steering wheel controls, Bluetooth for audio streaming and USB ports for selected devices.

Comfort
While HiLux is considered to be unbreakable workhorse, it is surprisingly comfortable, with everything installed exactly where you want it.
Back-seat occupants get a comfortable seat, decent legroom, three-point seat-belts as well as a fold-out dual cup-holder.
The driver's seat is electrically adjustable, fully clad in comfortable leather and has a great lumbar support. Back seats offer great comfort and the seat squab is deeper.
There is plenty of shoulder, knee, foot, as well as head room.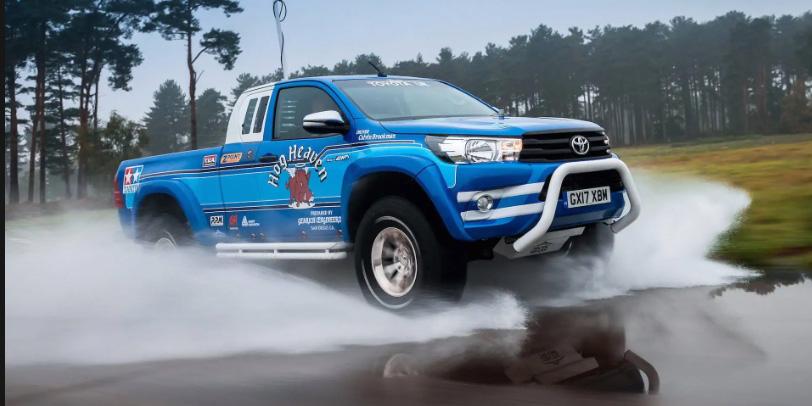 Compare With Competitor
Toyota Hilux verses Ford Ranger
When it comes to the Toyota Hilux verses Ford ranger, there are a few key factors that people tend to look at. The first, of course, is price.
Generally, the Ford ranger is a bit more expensive than the Toyota Hilux. However, that doesn't mean that the Ford ranger is automatically better – it just means that it may have more features or be a higher quality overall.
Another factor people look at is size. The Ford ranger is typically a bit larger than the Toyota Hilux, which means it can accommodate more people and/or cargo. Finally, people often compare fuel efficiency – and here, the Toyota Hilux usually wins out.
So, when it comes to the Toyota Hilux verses Ford ranger, it really depends on what you're looking for in a vehicle. If you need something that's inexpensive and efficient, the Hilux is probably your best bet.
However, if you need something that's a bit bigger and can handle more cargo, the ranger may be a better choice. Either way, you can't go wrong with either of these great vehicles.
Toyota Hilux Engine Spec's
The Toyota Hilux 2023 engine is a 3.5 liter V6 that produces 278 horsepower and 265 lb-ft of torque. It is paired with an 8-speed automatic transmission.
The Hilux can tow up to 7,000 pounds and has a payload capacity of 1,590 pounds. It also features a rear locking differential, crawl control, and hill start assist. The Hilux has a ground clearance of 9.4 inches and a wheelbase of 109.8 inches. It is available in both two-wheel drive and four-wheel drive configurations.
How Much Does a Toyota Hilux Twin Cab Cost?
A new Toyota Hilux Twin Cab can cost anywhere from $50,000 to $70,000 depending on the year, make and model.
When purchasing a Toyota Hilux Twin Cab, it is important to consider how you will be using the vehicle. If you plan on using it for work purposes, then it may be worth investing in a higher quality model.
Conclusion
One can rely on it to execute any work even when heavily loaded.
Hilux is renowned throughout Australia and its performance and towing capacity will be welcomed by a broad range of users including adventurous families, farmers, miners, and other businesspeople that are in need of a tough, reliable Ute.
Toyota Hilux is a tough, highly competent, smooth riding and popular Ute. That's evident by the fact that it outsells all Utes on the market.
This should give you confidence in its ability to offer great comfort, even in complicated Australian terrains.
What about a used family car?