Modelled after the legendary Jeep and the Hummer, the Toyota Land Cruiser is a utility vehicle which function mainly as a 4 Wheel Drive vehicle.
This means that unlike normal hatchbacks and sedans, when engaged the 4 wheels of these vehicles move together in unison.
For a long time, the entire Toyota Land Cruiser series has given tough competition to similar models launched by the likes of Mitsubishi and Land Rover.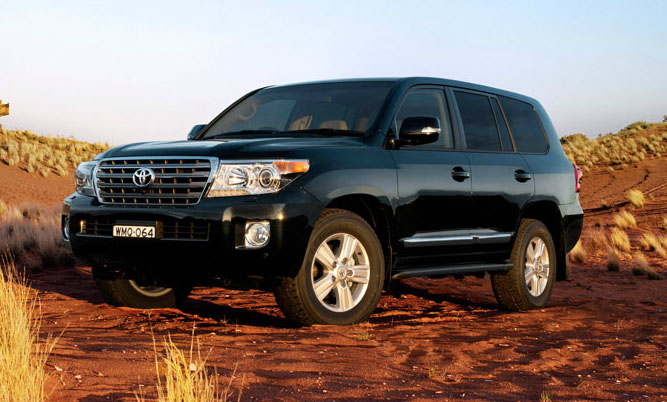 There is good reason as to why they continue to be so popular.
Here is a review of the Toyota Land Cruiser, a proper family car, and what this beautiful 4WD series really has to offer for Australians.
Looks And Interiors
One of the most noticeable things of the entire Toyota Land Cruiser series is that it has a unique, linear and no-frills design.
Unlike the more flashy designs of Land Rover and Renault, the design of the Land Cruiser is more tubular in design.
The bonnet is extended in a missile-fashion and the rear end is flat-edged as well.
The interiors are comfortable and spacious while the controls and accessories are snugly fitted into the car dashboard so as to make it easy and effortless for the driver.
Therefore, it looks straight-cut from exterior and sumptuous from inside as well.
Fuel And Engine
Most of the family cars from other brands are known to be quite weak in terms of fuel economy with only single digit figures.
This is certainly not the case with the Land Cruiser 200 series twin turbo V8, boasts a healthy 10.3L per 100km and the v8 petrol variant claims 13.6L per 100km.
This suggests that tourists and roadsters can use this vehicle series for the best experience. On the other hand, the engines run on fuels like Unleaded Petrol, and Diesel.
The 4.5 Lt twin turbo V8 Diesel model producing 195KW at 3400 rpm and 650Nm at 1600-2600 rpm.
Behind that is a purpose built 6 speed automatic transmission optimised for extra torque when towing, making this a very capable vehicle to tow 3500kg.
Great for towing a large caravan around Australia with the family.
The Specifications
There are quite a few specs which will further make this series quite a sensation among all the 8 seater cars as well.
The first gear ratio is pretty impressive at 3.33 and the reverse ratio is 3.06 which means that this Toyota Land Cruiser 200 is quite a super-capable series of cars that will deliver in terms of functionality.
The Double Wishbone Suspension on the Front will aid you in creating the right kind of comfort when driving.
This means that you will end up having quite a ball with the Toyota Land Cruiser 4WD since it is all so smooth and assured.
The Final Word
Along with all the other frills, the Toyota Land Cruiser again proves itself to be ahead of the game, when compared to other segments and series of family cars.
The 8 seater capacity means that you can take along your best friends and closest relatives for a nice trip on the highway.
There is plenty of leg room and head space and there is also quite a substantial and differentiated cargo space capacity as well.
This means that this is the kind of 4WD series that has a lot going for it. You need to check it out.